My Path to Becoming a Rabbi and a Writer
Family and childhood years
I grew up in Providence, Rhode Island in a family of six: my mom and dad, me, my sister, Sarina, and my two brothers Ari and Rafi. All I knew growing up was that women could not be rabbis, at least not in the Orthodox synagogue where my grandfather served as the rabbi, not at the Orthodox elementary school I attended and not in the traditional Conservative synagogue where I belonged, and where my father was the rabbi.
History records the first woman rabbi to be Regina Jonas of East Berlin, Germany who was ordained in 1935. In 1972, when I was 10, Sally Priesand became the first woman rabbi ordained in America's Reform movement. l knew nothing about these women until much later in my life, and though I had no childhood aspiration to become a rabbi, I did imitate my father on the rare Sabbath mornings I did not go to synagogue. I convened a congregation of my stuffed animals. I sat them in a circle on my bedroom floor, placed prayer books in front of their faces, kippot on some of their heads, and I became both rabbi and cantor, leading services, chanting traditional melodies, announcing pages and, I believe, delivering an occasional sermon.
In high school, I began to take my writing seriously wanting to get my words on the page in a way that enabled them to flow clearly from one thought to another. Then, during my senior year, my youngest brother Rafi, at the age of 11 was diagnosed with and died of Ewing's sarcoma. Before he died, I promised Rafi I would write a book about him. 
"… I had no intention of taking any religion classes."
College; work; graduate school
When I entered my freshman year at George Washington University (GW), I had planned to major in psychology as I thought I may want to become a psychologist. Prior to leaving home, I declared to my parents that I was done with my religious education and that I had no intention of taking any religion classes. That decision changed at freshman orientation when Dr. Harry Yeide Jr., a Lutheran minister, and chair of the religion department spoke. His gentle, loving and ethical spirit captivated me so much that I registered for his class 'Religion: Man's Search for Meaning' (which today, in our more politically correct times, would be probably be called 'Religion: Our Search for Meaning'). So, I majored in religion and minored in psychology. Harry became my mentor and treasured friend until his death in 2013.
Throughout college I worked on my book about Rafi, re-writing it four times, as I deepened my skills as a writer. These manuscripts sit in a special space in my home office. Over the years, I have published a few essays from this work, and one day hope to return to it, when I come to understand more clearly what it wants to be.
Toward the end of college, my father forwarded me an announcement stating the Conservative movement's decision to ordain women as rabbis. I was puzzled as to why he had sent this to me, as I had never expressed interest in becoming a rabbi. When I asked him about it, he said, "Because it's an historic moment in time."
After graduating GW, I worked as program director and acting director at Tufts University Hillel in Medford, Massachusetts. I then enrolled in the joint MA-MSW program at The Jewish Theological Seminary of America and Columbia University School of Social Work in Manhattan. By the time I graduated in 1988, I realized that my seminary studies had challenged me to discover a deeper meaning in life, and I began to understand that if I became a rabbi I could inspire and guide others in this way. I applied to rabbinical school, starting at what was then The University of Judaism in Los Angeles, and finishing at The Jewish Theological Seminary in Manhattan. In 1993, I received a MA in Hebrew Literature and was ordained as a rabbi, becoming the sixth generation of rabbis in my family, and the first woman.
Rabbi, Chaplain & Spiritual Leader
My rabbinic career began at Manhattan's Park Avenue Synagogue, a congregation of over 1,500 families. It was there that I grew into my rabbinic title and flourished. Five years later, my path turned westward. I married my husband Seth who lived in Seattle. After I moved, I became a visiting rabbi to communities in Alberta, Canada and Eastern Washington, an interim rabbi at Congregation Beth Shalom in Seattle, and a rabbi for The High Holy Days at Beth Israel Congregation in Vancouver, BC.
For over a decade, I was the chaplain for elders at a nursing home in Seattle, WA. Today, I continue as a chaplain and rabbi for elders at a retirement community in Seattle, WA. I am also an adjunct faculty member at a local hospital's Clinical Pastoral Education program; an Institute of Jewish Spirituality (IJS) trained Wise Aging facilitator, currently facilitating groups online; and a speaker and scholar-in-residence throughout North America. In 2021, I received my Doctor of Divinity, honoris causa from the Jewish Theological Seminary of America.
Ordained as a rabbi, I became the sixth generation of rabbis in my family, and the first woman.
Writer
My essays, nonfiction, fiction, and articles have appeared in literary journals, anthologies, magazines and newspapers such as: The Gettysburg Review, The Sun, Post Road, The Beloit Fiction Journal, Clackamas Literary Review, The Dalhousie Review, American Letters & Commentary, The Raven Chronicles, Hotel Amerika, The Women's Torah Commentary, Jo Lee Magazine, JTNews, The Jewish Week, The Baltimore Jewish Times, and Bar News (Washington State Bar Association). From 2012 to 2020, I served as the Ethics and Spirituality columnist for Liv Fun, a magazine created for Leisure Care that reached 15,000 people in ten states within the U.S. and Canada.
Volunteer
The focus of my current volunteer work is creating feminine hygiene kits for girls in Cameroon, Africa so they can attend school during their monthly periods and not fall behind their male classmates. When I learned about this project of The Sarah Allen Sisterhood Women's Ministry of the First African Methodist Episcopal Church, I asked if we could create a partnership, adding an additional site at our synagogue. It was the spring of 2016, and I found myself sickened by the racist, sexist, Islamophobic, xenophobic and anti-Semitic voices rising in our nation. I felt compelled to create a community of people across the belief spectrum, who ascribe to the shared values of respect and inclusiveness. To our synagogue, I invited a Muslim community, neighbors, students from local schools, and people from nearby faith communities.
Today, we are known as the Seattle Limbe Sewing Circle. We are a multi-faith, multi-race, multi-ethnic and intergenerational community who meets regularly to help restore dignity to girls in Cameroon and to build a more understanding and tolerant community here in Seattle. If you find yourself in Seattle, and want to join us, contact me, and we'll be happy to welcome you.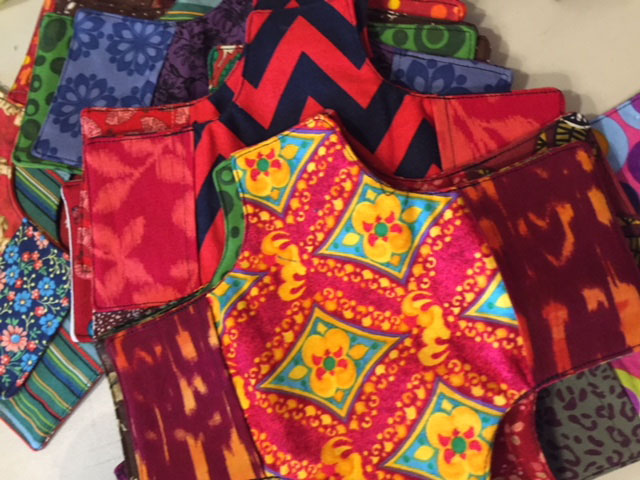 My Mission Today
My mission in my work, writing, and life is to bring people together; to enable all people (especially children, elders, and those who feel marginalized in our society) to be heard; to guide people to find meaning in their lives and to live into this meaning; to question the wrongs we encounter and to have the courage to change them; to do our best to right the wrongs we ourselves create; and to appreciate how each one of us is a precious and necessary gift that contributes to the larger whole of our world.